Bishop Creek Lodge Cabins
Our rustic cabins are warm, clean and comfortable. Each cabin is carpeted, heated, and comes complete with a kitchenette, bathroom and hot shower.
We provide basic cookware and dinnerware, and appliances which include: a coffee maker, microwave, toaster, refrigerator, and gas stove.
We also provide all linens.
Outside each cabin there is a charcoal barbecue, picnic table, campfire pit, trees, birds, squirrels, sunshine and the occasional thunder shower to complete the Bishop Creek experience.
---
We require a minimum stay of 2 nights as well as a minimum stay of 3 nights on ALL holiday weekends.
Bookings with 7 or more consecutive nights receive 1 night FREE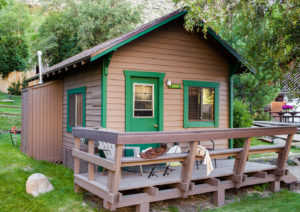 Cabin #1
Sleeps: 2
1 Queen bed
This cabin is conveniently located closest to the Lodge making it easier to travel for drinks and food. The little stream that runs through the property collects right next to this cabin.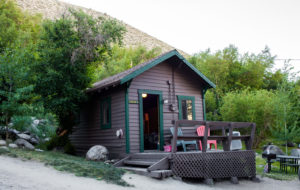 Cabin #4
Sleeps: 2
1 Queen bed
Cabin #4 is a sweet, simple cabin, great for a single person or couple. It provides a quiet getaway for people looking to escape the rapid style of the city life.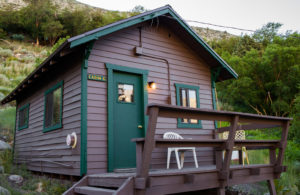 Cabin #6
Sleeps: 2
1 Queen bed
This quaint cabin is always the first to book due to the privacy it provides. It is located at the top of the property, which gives guests a great view of the neighboring granite peaks.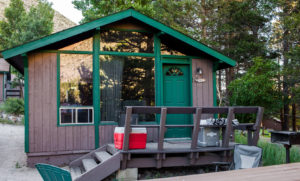 Brook Trout Cabin
Sleeps: 4
1 Queen bed; 2 Twin beds
The Brook Cabin is always complimented on the views it provides. This scenic cabin oversees the trees down valley, which are extraordinary during Fall Colors, to the waterfall across the way.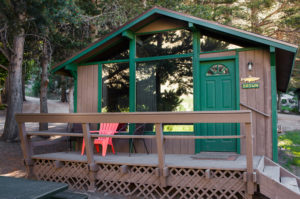 Brown Trout Cabin
Sleeps: 4
1 Queen bed; 2 Twin beds
This cabin is surrounded by the abundance of towering pine trees, and it is located on South Lake Road, providing fisherman and backpackers an easy way to get the day started.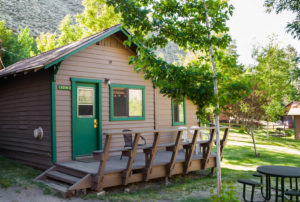 Cabin #2
Sleeps: 4
1 Queen bed; 1 Bunk bed
Cabin #2 is a great family gathering place. To the right of this cabin there is a large grass area where children are able to run around and enjoy the nature that is here is the Eastern Sierra.
Cabin #3
Sleeps: 4
1 Queen bed; 1 Bunk bed
This cabin provides a great retreat for a small family. It is located next to our public horseshoe pit and you are able to listen to the sound of the stream running through our property.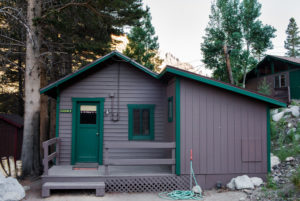 Cabin #5
Sleeps: 4
1 Queen bed; 1 Bunk bed; 1 Twin bed
Cabin #5 is excellent for a small or bigger family. It is conveniently located next to our fish cleaning station, so you do not have to travel far to prepare the days catch.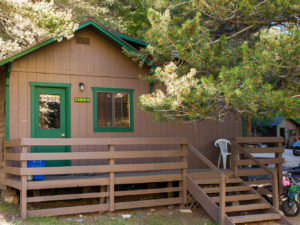 Cabin #8
Sleeps: 5
1 Queen bed; 1 Bunk bed; 1 Twin bed
This cabin is ideal for entertaining a small group. This cabin has the perfect, spacious fire pit area outside the back door, great for roasting marshmallows and telling fish tales.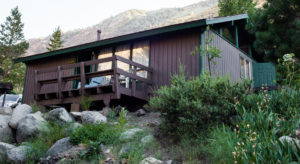 Golden Cabin
Sleeps: 8
2 Queen beds; 2 Bunk beds
The Golden Cabin is ideal for reunions, a group, or big families. It has comfortable, roomy parking and a front porch view that overlooks the striking scene of our property and its surroundings.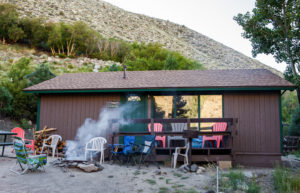 Rainbow Cabin
Sleeps: 8
2 Queen beds; 2 Bunk beds
The Rainbow Cabin is the Golden Cabin's cousin – ideal for reunions or a boy's fishing trip. This cabin is known for the notorious luck it provides to its fisherman – often boasting about the biggest fish or stringer of trout.